Participation to nDay 2020 extended until JUNE 2021
Later Participation to nutritionDay 2020

Due to the COVID-19 Pandemic many hospitals and nursing homes had difficulties in participating this year to nDay 2020.
Due to the many requests, nutritionDay has decided for this 2020 edition to make data collection possible at any date chosen by the unit until June 2021. The date chosen has to be a week-day, excluding weekend days. In this way, units can organize easily and efficiently accordingly to the workload in the unit and on the availability of staff.
Sequential days can be used for data collection in one center, auditing for instance one unit per day within the center would allow a global snapshot of the nutrition care in the center.
Organization with nutrition teams and dietitians in the unit/center is crucial and it could allow nDay data collection during round visits or at convenient time for the unit staff.
It is important to keep track of the outcome collection after 30 days (hospital/oncology category) and 60 days (ICU category) from the "nDay date" chosen by the unit. Patients' outcome collection is extremely important to be able to study its association with patients'nutritional status, nutritional risk factors and nutrition care processes in the unit.
nutritionDay offers the possibility to benchmark and monitor the nutrition care in your hospital or nursing home and your patients' nutrition risk profile.
Upon participation, units receive a FREE report with unit data comparison to the worldwide reference in the same specialty!
Participation free of costs!
Merken
---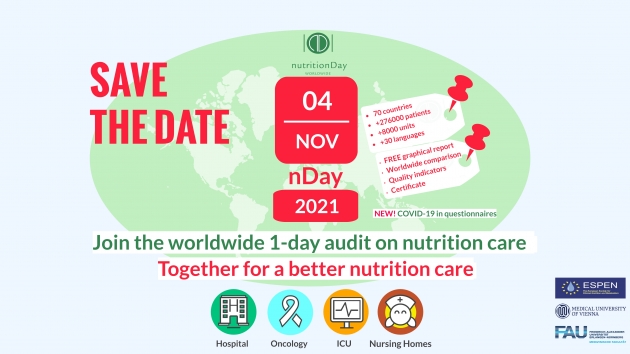 Participation is easy, fast and free!!
Follow our guided steps to participate to nDay 2020!
Many thanks
to all participants of nutritionDay of previous years!
Long-term development needs continuity. Please join nutritionDay this year again
and invite others to participate!
---